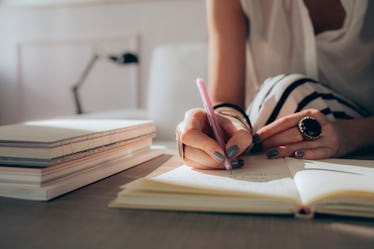 8 Things To Throw Away For Better Health & More Happiness In 2018
It's new year's resolution month! The beginning of the year is here, which means we're all making changes in the name of self-improvement. So many people have plans to weave new fitness routines or wellness habits into their lives, but TBH, carrying out all these initiatives can be a tad overwhelming for those of us who don't have anything planned. So I say, if you want to jump on the resolution bandwagon but don't know how, why not start from where you are right at this moment? Consider the things you can throw away for better health and more happiness in 2018, instead of tasking yourself with finding things to add to your current day-to-day.
See, when you rid yourself of actual material things that no longer serve you, you're better equipped to start the year off feeling fresh and clear. Think of yourself as the proverbial phoenix rising from the ashes of the unnecessary goods cluttering your space and weighing you down.
And you know what's really great about throwing things away? After you get stuff out of your space, it's gone. You're done. So while the rest of the world is struggling come the third week of January to keep their resolutions in place, you, my friend, are all set, because your negative clutter is gone, and (most of) it can't come back.
So, without further ado, here's a list of items to consider tossing in the trash, or even donating, this year.