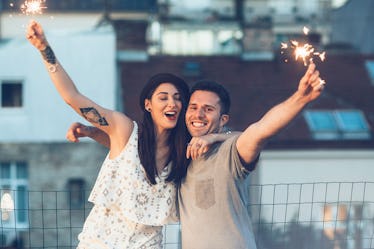 All Of The Things You Need To Thank Your Guy Best Friend For On His Birthday
I consider myself a very lucky girl, because not only do I have a best friend, but my best friend is a guy. I love my girl BFFs so much, but there's something special about having a guy bestie that you can't get from your gal pals. Not only are all the basics there in your friendship, like him always being there for you and making you laugh, but a guy bestie comes with a few extra special qualities. That's why on his birthday, the greatest gift you can give is to show your gratitude. The words will start flowing once you remember all of the things to thank you guy best friend for on his birthday.
Sure, you could always do a dedicated Instagram post of you and your bestie with some BFF quotes, but this will be the icing on the birthday cake. Plus, it's a gift that's totally priceless, so you're winning all around. Either write it all down in a DIY birthday card, or treat your birthday bestie to a fun day while you give endless praise for these eight things. No matter what you do, your best friend will love the outpouring of love on his big day, and a bestie as special as him totally deserves it.