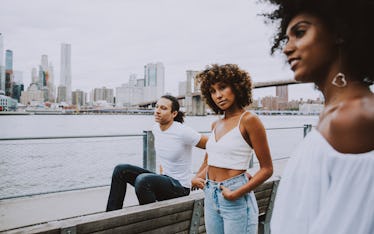 8 Really Cool Things To Do In Brooklyn When You're Visiting NYC
Fabio Formaggio / EyeEm/EyeEm/Getty Images
Manhattan is undoubtedly a beautiful borough of New York City and home to the billboards in Times Square, towering skyscrapers like the Empire State Building, and well-known museums near Central Park. But the next time you visit the city, this list of cool things to do in Brooklyn should be one of the first things on your bucket list.
This borough has its own trendy restaurants, gorgeous #views, quaint coffee shops, and attractions to offer. It might take some extra time to get to on the subway — not to mention, a little extra planning to fit its sights into your weekend trip. But it's so worth it — especially when you take a bite of a local eatery's legendary pizza or stroll through the buds in a colorful botanical garden. The cozy atmosphere of this group of neighborhoods in the city that's known for its electric neon signs will make you feel like you're right at home.
It's what I like to call The Brooklyn Effect: this borough's uncanny ability to make a large place like New York City feel like a chill suburb, and add the sweetest adventures to your bucket list. These eight things to do, in particular, in Brooklyn you won't want to miss out on.