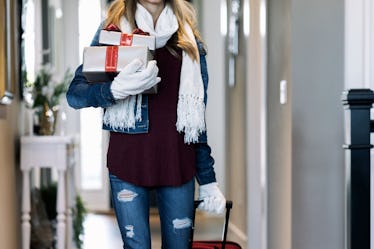 8 Things Millennials Understand About Being Home For The Holidays & The Struggle's Real
There's nothing like going home for the holidays to spend quality time with the family. But as excited as you are to hang like the good old days, you've come to expect a few things the minute you walk in the door. For instance, you know you're going to be filled with instant nostalgia seeing your childhood bedroom, and you'll have to field a ton of questions from your parents. Actually, there are just some things millennials understand about being home for the holidays that no one else ever could.
Believe me, I love being home. Don't tell my mom, but I would move back home to Florida in a heartbeat if I could pack up Los Angeles and bring it with me in my suitcase, too. Unfortunately, that's just not the case, and instead, I only get to travel home for big holidays.
I can't wait to sleep in my childhood bed and look through photo albums for hilarious #TBT pics, but at the same time, I have to prepare myself for these eight inevitable things that will come from my relatives. So, even though the struggle can be all too real at times, it's just so wonderful to be home sweet home for the holidays.