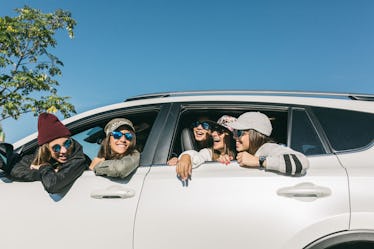 8 Ground Rules For A Summer Road Trip, So You Don't "Drive" Away From Your Friendship
Cruising down the highway with the windows rolled down, your sunnies on, a solid summer playlist streaming, and your besties singing along is the epitome of vacation goals. If you love a good road trip, you know this kind of getaway allows you to be spontaneous, explore new places on your own terms, and make everlasting memories. It's an adventure your friends can't wait to go on — but first, you need to set some summer road trip rules for friends.
Before you start packing up the car, you and your friends should agree on how to road trip will go. With a getaway so flexible like a road trip, it may seem weird to put any kind of restrictions on it, but you should consider discussing these eight things with your friends before you hit the road. It'll make for smooth cruising down the freeway, and prevent any bumps down the road.
You want that fun and excitement you get the minute you first merge onto the highway to stick around for the rest of the journey. Don't let anything get in the way. After all, road trips bond friends together for life, and when everyone's in agreement, it only makes that bonding happen faster.