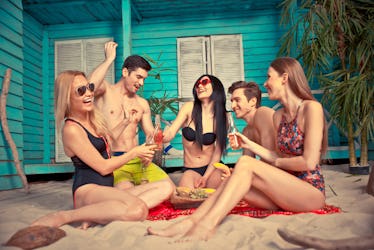 7 Beach House Rules Friends Should Set, So You're Still Friends When You Leave
Summer is officially here, and the season should not be taken for granted. Instead, seas the day (Pun intended.) by spending as much time as possible going to the beach and traveling . The best way to combine the two is by renting a beach house with your crew. Before you book anything, you should all sit down and go over the logistics. There are some rules to make before renting a beach house with your friends, so that you're still a super squad when you leave.
Obviously, a week away with your best friends sounds amazing and can be the best time ever, but traveling with a big group and planning everything can be stressful AF. When you get there, if you're not prepared, you can run into a few bumps that might cause a little bit of tension in the house. You want to spend your time relaxing on the sand and soaking up those warm rays — not having house meetings to discuss frustrations.
By setting these seven ground rules ahead of time for everyone to abide by, there likely won't be any awkwardness addressing things while you're there. This way, your vacay is set for smooth sailing before you even arrive at your destination.