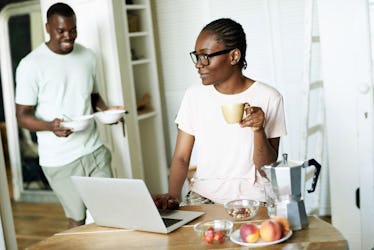 8 Signs Your SO Respects Your Ambition, So Don't Feel Bad About Chasing Your Dreams
Being with someone who loves you is a magical, extraordinary thing. But being with someone who also respects your ambitions and goals is extra special. If you're working hard toward a goal and want to know how your partner feels about it, then these signs your SO respects your ambition could be indicators that you've got a keeper on your hands.
The thing is, everyone deserves to be with someone who supports them, and your partner should want nothing but the best for you. But sometimes, feelings of jealousy, control, or just straight-up sexism can cause people to not be completely supportive of each other. More, if your significant other doesn't respect your goals and ambition, then maybe they aren't that great of a significant other. "A true partner wants you to be ambitious on your own terms — whatever that means for you," Elle Huerta, the CEO and founder of Mend, a self-care app that helps you get through breakups, tells Elite Daily. So really, you shouldn't settle for someone who isn't supportive of you, period.
Whether that means your partner helps out around the apartment so you can work that extra shift, or they bring you coffee while you're working on your website at 2 a.m., you deserve to be with someone who respects your ambition in all of it's forms. Look out for these signs that indicate your partner does just that.