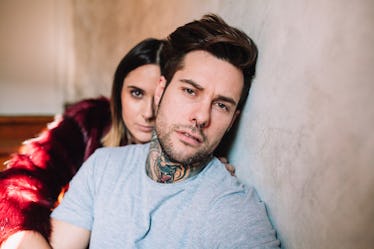 What To Do If Your SO Gets Jealous Of Your Guy Friends, So You Don't Have To Choose
I've always had a lot of guy friends. To be honest, my friend group is pretty much all across the gender spectrum, but it's the fact that some of my closest friends are cis men, that has occasionally created some friction early on in my romantic relationships. When a new partner would see the large role these other fellas played in my life, they could feel a little intimidated or suspicious, so over the years I got pretty good at smoothing over situations where your partner gets jealous of your guy friends. I've almost always had success, and, when I didn't, it was with people who had deeper jealous problems.
Just because a new partner is feeling some type of way about your male friend group doesn't automatically mean they have jealousy issues, and it's usually something you can work through with some good communication skills and empathy. Having a game plan to head off their feelings is often enough to resolve the situation, so you don't end up in a scenario where your bae is asking you to pick between them and your boy BFF. So, I reached out to NYC relationship expert Susan Winter for her take on how to tackle this tricky topic like a pro.