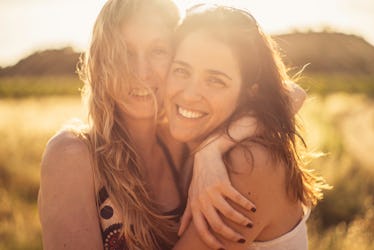 8 Telltale Signs Your Cousin Is Your Truest Soul Sister Out Of All Your Friends
As far as a best friend is concerned, your main girl should complete you, and also complement you. She's your biggest cheerleader, and will always be brutally honest with you (even when you really don't want to hear it). Your number one is the yin to your yang, and you really couldn't imagine going through life without her by your side. A lot of the time, the person who fits that description is someone in your family. It could be your sister, or even your mom — but you could also be BFFs with your cousin. The only way to know for sure are from certain signs your cousin is your best friend.
Sure, you may have a bunch of good friends, but a best friend is so much more. I mean, it totally makes sense that your cousin would be your person. She's basically like your sister, minus all of the bummer things like having to share clothes and fighting over mom and dad's attention as kids. Plus, because you are family, your cousin has been there for you throughout your entire life, and she isn't going anywhere. You may already know how special she is to you, but these eight telltale signs just reaffirm everything you already know — your cousin is your soul sister.