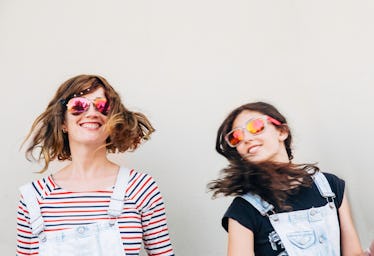 8 Things You Really Only Understand If Your Cousin Is Also Your BFF
Sometimes, you wish for a best friend — and sometimes you get one, just not in the way you expect. Sometimes, you go through life, wondering just who your person is, until you realize that your cousin is your best friend. Think about it. You're close in age, you hang out all of the time, your inside jokes are the actual best, and she knows pretty much everything about you. Combine that with the hundreds of secrets you've entrusted her with over the years, and yeah, it sounds like your cousin fits the bill as your forever bestie.
Maybe you're like, yeah, duh, of course my cousin's my best friend. We grew up together, went on family vacations together, we share a set of grandparents and have so much in common. I guess when you put it that way, it's pretty cut and dry. Cousins are some of the best friends you could ever wish for. If you don't have a sister, you're pretty much convinced this is what it's like, anyway.
If she's your best friend, there a million special things about your relationship — but I bet a few of them are these eight things. It's you two against the world. Or, at least, your other cousins at the family potato sack race.