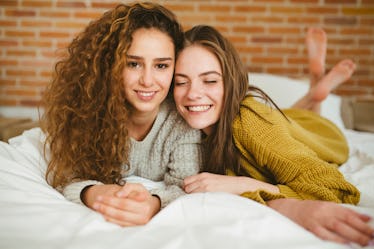 Why Having Cousins You're So Close To Is Truly The Greatest Gift Ever
I like to write about my sister a lot because she's beyond special to me. For as long as I can remember, she's played a giant role in my life, so of course she's my best friend and biggest motivator. But there's another person who's been there for pretty much just as long and who I consider to be one of my closest friends. Having cousins you're close to is an amazing thing, and one of the greatest gifts to be blessed with. For someone who doesn't have a sibling, it's like the sister or brother you never had. And for someone like me who does have a sister, my cousin is the third member of our girl gang.
My cousin was born two weeks after my sister, who's a little over a year younger than me. Our families have been close for forever; as kids, we'd talk about the day we'd ended up in college together, enjoying our big girl lives, and remaining the best of friends. In high school, we drifted apart a bit, but now we've ended up in the same place — all in college together, just like we always dreamed of. Even better? My cousin is my roommate.
If you're really close to your cousin, I'm sure yours is so important to you. Sometimes it's hard to put into words everything she does for you. Here are seven reasons you're oh-so-lucky to be friends.