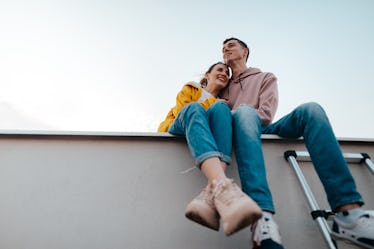 Recreate These Rooftop Photoshoot Ideas For Fall With Your SO & Spooky Decor
AleksandarNakic/E+/Getty Images
The seasons are changing, and the content on your Instagram feed must change with it. Although there are no specific rules to social media, it's a home-run level move to trade your beach pics for pumpkin ones as soon as the calendar reaches September. The perk of this seasonal shift is the world is nudging you to challenge yourself creatively and make the most of autumn props, spooky decor, and new #looks. Start with one of these rooftop photoshoot ideas for fall and see where it takes you.
After spreading out a blanket, lining it with twinkly lights, and capturing a pic of your SO lighting a candle nearby for a fall date night, you may be bursting with ideas for whimsical, romantic, or tasty photoshoots. Those candy apples you can pick up at your local farmer's market and the cool witch's hat you have tucked into your closet are definitely ready to make their IG debut. It'll be hard to pass up their spirit for the season for something much less creative and social media-worthy.
Not to mention, props like those are included in some of the other ideas we have for you. Scroll down to see how you should set up your rooftop this fall with spooky decor and your SO for a photoshoot that'll look so boo-tiful on the 'gram.