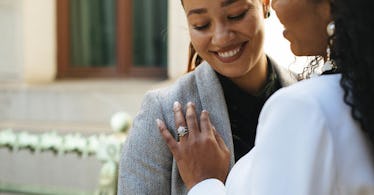 8 Beautiful Quotes About Falling In Love That Will Give You Butterflies
It's the end of October and we're well into cuffing season by now, folks. This time of year is filled with people coupling up, cuddling in, and generally falling in love. If you're looking for some love inspiration, here are some quotes about falling in love that will make you inspired to find love for yourself. Whether you're a single Pringle like me, or beginning to date someone you're thinking you're into, or in a well-established relationship, sometimes reading warm and fuzzy quotes about love can make you just feel extra mushy inside.
I've compiled a list of love quotes, ranging from song lyrics from Taylor Swift and Hayley Kiyoko to full-on love inspiration from shows like The Mindy Project, Gossip Girl, Grey's Anatomy, and movies like The Fault In Our Stars and A Walk To Remember. I'm warning you now that you may feel some intense feelings – I cried watching the A Walk To Remember trailer while writing this. Anyway, now that you have been properly warned, read on for a number of love quotes that'll make you hop onto your dating apps or ask out that coffee shop cutie, like, ASAP.