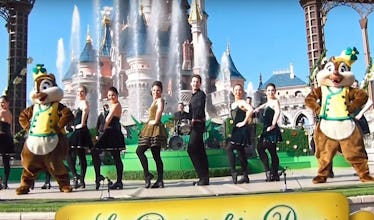 8 Photos Of Disney On St. Patrick's Day That'll Have You Irishin' You Were There
If you're looking for a magical St. Patrick's Day, look no further than a Disney park. You know the place that sparkles with Tinker Bell's pixie dust wouldn't miss out on an opportunity to celebrate this shamrockin' holiday. No matter what Disney park you decide to visit, you will encounter a lot of green, and a ton of magic. From the treats to the castle, photos of Disney on St. Patrick's Day just prove that it truly is the place to be.
You're probably already aware that Disney goes all out for Christmas and Halloween with their decorations and limited-time treats — but that doesn't mean they don't go ham for other holidays as well. Disney is like that friend who always finds a reason to celebrate — so you know they will be embracing the festivities on St. Patrick's Day, too.
If you don't have plans yet for Saturday, Mar. 17 — and are close to the parks — you should definitely head to Disney for the day. You don't need me to convince you. Just look at these eight photos of Disney on St. Patrick's Day, and you'll be feeling the luck of the Irish. Just don't forget to add something green to your Mickey ears before you head out, and have a happy St. Patrick's Day.