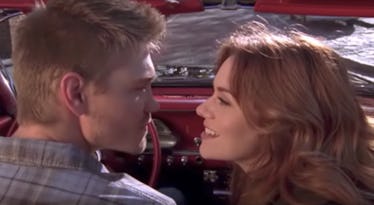 8 Peyton & Lucas Moments From 'OTH' That Every Hopeless Romantic Will Appreciate
Honestly, Peyton Sawyer and Lucas Scott from One Tree Hill are the definition of relationship goals. Sure, they had their ups and downs, and at times, we were grinding our teeth wondering if these two would actually end up together. Even when they first meet, they were dating other people, but true love prevails in Tree Hill, and Leyton (Lucas and Peyton) ended up together. Our little hearts cannot take it. Watching their love story unfold through different Peyton and Lucas moments from One Tree Hill definitely brings out the hopeless romantic in all of us.
For the girl who always believed that "everyone leaves," she found someone who stayed. Lucas and Peyton may have gone their separate ways with other people at times, but like magnets, they always came back to each other. Lucas even revealed in his vows to Peyton, "I've loved you since the first time I saw you. And this ring, and these words, are simply a way to show the rest of the world what has been in my heart for as long as I've known you. I love you, Peyton Elizabeth Sawyer. I always have and I always will." *Swoon* Who needs a fairy tale with princesses when you have these eight Peyton and Lucas moments? They will truly make you believe in a happily ever after.