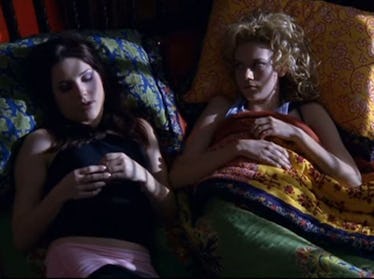 8 Peyton & Brooke Moments On 'OTH' That'll Make You & Your BFF Feel All The Things
They had their fair share of fights, but Brooke Davis and Peyton Sawyer were always friendship goals on One Tree Hill. I mean, who could really blame them for fighting with total hunk Lucas Scott around all the time. But at the end of the day, "hoes over bros" always came out on top. If you and your best friend watched the show together, there were probably far too many Peyton and Brooke moments from One Tree Hill that made you both say, "same"... at the very same time. You can relate to these characters because your friendship is just as strong and important as theirs.
Hopefully, there's way less drama in your life, but it's pretty much like you and your bestie live in Tree Hill. Despite the loves triangles, or as Brooke puts it, "rectangle plus one," her and Peyton were always there for each other. You and your BFF are exactly the same. You know you have your disagreements at times, but your friendship always wins out. These eight memorable Brooke and Peyton moments from One Tree Hill could seriously be moments straight from your own life. And the most important thing you and your BFF share with Brooke and Peyton is that you both can be a shoulder to cry on. This will come in handy when you re-watch One Tree Hill together, because oh boy, this show can really hit you in the feels.