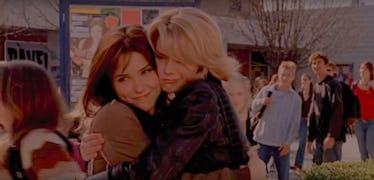 12 Peyton & Brooke Quotes From 'OTH' That Will Make You Think Of Your BFF
Peyton Sawyer and Brooke Davis from One Tree Hill were always best friends. Despite having a few occasional fights over boys, Peyton and Brooke were always there for each other like the truest of sisters. Don't deny it; there were definitely many moments when they reminded you of you and your BFF while watching the show. Especially when they proudly declared, "hoes over bros," in addition to many other Peyton and Brooke quotes from One Tree Hill.
You knew these two girls cared about each other more than anything in the world. Peyton once gave up on Lucas, her one true love, for Brooke, which you know only a real BFF would do. Despite all of the Lucas drama throughout the show, these girls were there for each other for every loss and accomplishment. Peyton even gave her child Brooke's name for her middle name. If you have a bestie that you care about endlessly, then you can totally relate even if you haven't been through half of the drama these two have.
You'll instantly think of your BFF every time you hear Peyton and Brooke say these 12 quotes from One Tree Hill. You can share these words in a text or in an Instagram post to show your bestie how much you care. The real love in One Tree Hill was definitely Peyton and Brooke's best friendship because, for real, hoes over bros.
1. "I used to be a bitch just for the sake of being one. But now I'm a bitch for the sake of my friends and family." — Brooke Davis
2. "My best friend is funny, intelligent, creative, beautiful and successful and very kind. And she's also impulsive, frustrating, complicated, childish, but I would not have her any other way. And the best part about Brooke Davis is that she always puts friends first, so if you are ever in any kind of trouble, now you know who to call. I can't think of anyone I would rather have watching over you."— Peyton Sawyer
3. "The kind of friendships we used to believe in. I miss that. And I miss you. I guess I just miss all of it." — Peyton Sawyer
4. "This is my best friend in the whole wide world. Don't you think she's pretty?" — Brooke Davis
5. "And now we're gonna sit, and you are gonna cry on my shoulder for as long as you need to, OK?" — Brooke Davis
6. "Have I told you lately, you're my best friend?" — Brooke Davis
7. "You're my best friend and I would never cut you out for a guy. OK? No matter who he is. Or how happy he makes me." — Brooke Davis
8. "We made it, didn't we? Through all the tragedy and jealousy and confusion. We made it." — Brooke Davis
9. "Hey, when I think of everyone else out there in the world, that goes through their life alone and then I think of all the amazing years I got to spend with my beautiful, beautiful best friend, Brooke Davis. I kinda feel sorry for everybody else." — Peyton Sawyer
10. "Hopefully, you have a friend who's gonna tell you that life kicks you around sometimes. It scares you, and it beats you up. But, there's a day when you realize that you're not just a survivor. You're a warrior. You're tougher than anything it throws your way. You are." — Brooke Davis
11. "I just really want us all to be good enough friends. That we can talk about stuff. You know? Even when it's ugly... especially then." — Peyton Sawyer
12. "We're young, we're fine... let's do some damage." — Brooke Davis