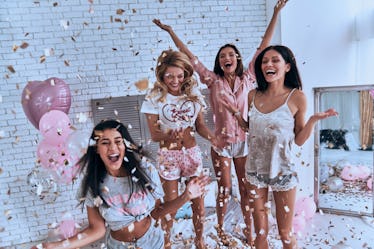 8 Perks Of Having A Bachelorette Party Close To Home That You'll Say "Yes" To
Let me just say, congratulations on your upcoming nuptials. It's a very exciting time, and wedding planning is in full swing. As you're going down the checklist of things for your big day, the one that you keep going back to is planning your bachelorette party with your squad. You can't wait to celebrate, but you aren't sure how or where. There's always the traditional trip to Vegas, or a weekend away at a beach house. Traveling is always a fun option, but the perks of having a bachelorette party close to home sometimes outweigh it all.
Of course, I personally would love to have a bachelorette party like the one from Crazy Rich Asians and rent out an entire island for my friends to travel to. Unfortunately, until I have a really rich bank account, I'm settling for whatever is the easiest plan. If you're full of wanderlust, traveling for your bachelorette party may seem like the more appealing option, but you may be forgetting about these eight perks you get by staying close. You want a party you'll remember forever with your favorite people, so why not go as big as you can? After all, you might as well go big, because you're already close to home.