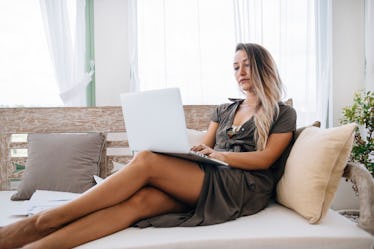 8 Movies To Watch After A Breakup That'll Help Heal Your Broken Heart
Dealing with a breakup is no joke, people. It's likely going to involve copious amounts of pain, anger, and tears. There's also a decent chance that you'll be spending quite a bit of time moping around your living room or vegging out on the couch. The good news is that watching movies is a great way to keep your mind off your ex, if only for a few minutes at a time. We all know how important it can be to have a distraction when coping with a broken heart. Fortunately, there are tons of movies to watch after a breakup that can give you a good laugh or a therapeutic cry.
When you're trying to move past a relationship that didn't work out, it can be all too easy to get stuck in your emotions. Once you fall into the hole of sadness, it can feel almost impossible to put the breakup into perspective and see it for what it is; A road bump in the much larger journey of your life. So, if you need a few reminders that there's a whole wide world out there and that you'll survive the heartbreak, consider cuddling up with your favorite snack and watching one (or all) of these awesome movies.