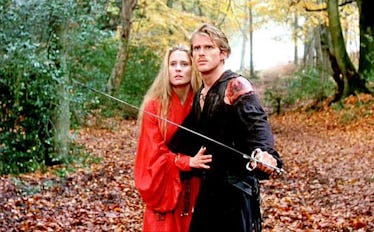 8 Unbelievably Romantic Movies To Watch This Fall That Prove Love Isn't Dead Yet
Act III Communications
There's something pretty magical about fall. I don't know about you, but walking home while crimson, orange, and gold leaves crunch beneath your feet is one of life's simplest pleasures. All I can think about as I shuffle home through the leaf-covered sidewalks is what movie I am about to snuggle up under a blanket and watch. If you've been wanting to cozy up with a movie this fall, too, you may be interested in this list of some of the most romantic movies to watch in fall 2018.
I basically spend all year waiting for the trees' chlorophyl to bow out and cue the wonderful season of chunky sweaters, pumpkin patch visits, hot cider, and fall-scented candles flickering on the window sill. When it comes to deciding what to watch during the fall, romantic movies take the cake. There's something about their wistfulness and chilly weather that make it a perfect time to revisit some romantic classics or check out a new romantic film that you haven't seen.
For this list, I've recommended some movies that are perfect for snuggling up solo or with a crush this fall. That familiar struggle to decide what to watch often creeps up right as your popcorn is popped, blanket is warm, and pumpkin spice candle is lit, but don't worry I've got you covered. Check out the following suggestions for the perfect fall movie night this season.