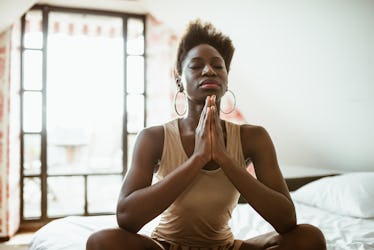 8 Morning Yoga Tutorials To Start Your Day Off On The Right Foot
franckreporter/E+/Getty Images
Your morning routine may include brewing a cup of iced coffee, or doing a workout that makes you feel energized and motivated to take on the day. This workout might have high-intensity moves or a 10-minute long meditation session in it. If you want to get into morning yoga, then the morning yoga YouTube tutorials will definitely be a good place to start.
These yoga tutorials will ensure that you start your day on the right foot by waking up your body with meaningful stretches and breathing techniques. Some of them will ask you to create a mantra for the day, so you know what you ultimately want to accomplish, feel, or remember. If you take the time to come up with a solid mantra, then you may feel like you can tackle your to-do list with even more ease. Other videos will be more active and allow you to get your full-body workout in before even whipping up your breakfast.
It's up to you to decide which one fits best with your schedule and personal goals. If you just want to give morning yoga a whirl, that's well and good. There's, without a doubt, a video for you, too. Check out these eight tutorials and prepare to step into the zen vibes.