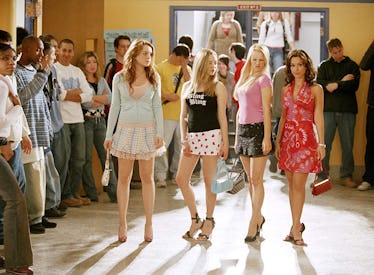 These 'Mean Girls' Tweets & Memes Are Relatable & Totally Fetch
Paramount Pictures
Back in high school when I used to have sleepovers with my best friends, we always watched Mean Girls. We'd turn on the TV channel that always seemed to stream the iconic movie on repeat around midnight, and quote our favorite lines like, "That's so fetch." and "She doesn't even go here!" To this day, our love for this film is still going strong, and that's why I'm scouring the web for Mean Girls tweets and memes that are totally relatable and — dare I say — so fetch.
For those of you who don't know, Oct. 3 is the day when Cady Heron sat next to her crush, Aaron Samuels, in math class. He turned around and asked her what the date was in an arguably romantic moment between the two. The scene turned into a pop culture phenomenon. With one scroll through social media, you'll be able to see exactly what I mean.
You'll see an endless supply of tweets and memes related to Mean Girls quoting The Plastics, Damian, or Janis Ian as their catchphrases become #relevant in real life. You may see GIFs and loyal defenders of Gretchen Wieners too. Here are a some to get you started.