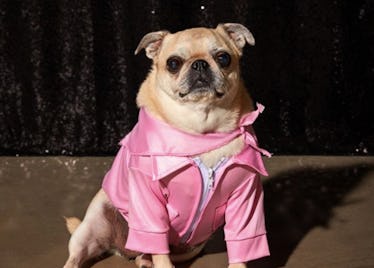 These Dog Costumes From Urban Outfitters' Halloween Shop Are Barkin' Cute
Your dog is your best boo. They may tag along when you go to the mall or meet up with a friend for coffee. Anytime you have to run errands or leave your apartment, they patiently wait for you to come home to snuggle on the couch and watch a movie together. So it's only right that you get them an outfit for the festive parties and spooky events to come. Lucky for you and the pup in your life, Urban Outfitters' Halloween shop dog costumes are barkin' cute.
They're made for the hangs with your witches and the invites that say, "Don't forget to creep it real." They'll make the fellow partygoers swoon when your pooch walks in the door. When it comes time to take pics, your fur-ever friend will likely be in every shot, posing in their devil horns or cheerleader-style bow. You'll stand by the camera like a proud mom, encouraging them to look at the lens and giving them lots of treats afterwards. (It'll be fang-tastic, if I do say so myself.)
Now, some of these costumes turn your fluff into an iconic character from a movie, or a critter that's typical of Halloween like a spider. No matter which one you get for your pup, they'll look beyond cute. Take a look for yourself, and then get to shoppin' and spookin'.