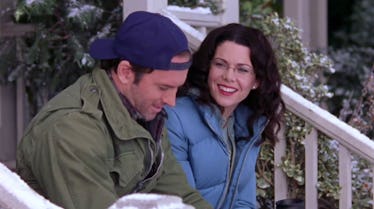 8 Lorelai & Luke Quotes From 'Gilmore Girls' That Made You Believe Soulmates Exist
Despite all the other guys in Lorelai Gilmore's life in Gilmore Girls, we all knew it was going to be Luke who won her heart in the end. If you didn't believe in soulmates before, after watching these two flirt for seasons and finally get together, you became a believer. True love does exist, and we're all just looking for our very own Luke or Lorelai to make our happy ending come true. This is certainly someone who enables our coffee obsession, builds us a chuppah, and will bid on our basket just because we asked them to. We always knew they were soulmates with certain Lorelai and Luke quotes from Gilmore Girls.
It was the things these two lovebirds said to each other throughout the show that showed us it was always supposed to be Luke and Lorelai together... forever. They were the first interaction we saw in the very first episode when Lorelai asked Luke for more coffee, and he knew she already had enough, but obliged anyway. That's what a soulmate does, and Gilmore Girls is the real fairy tale we're looking for. Thank you, Amy Sherman-Palladino, for giving us all a glimpse at what soulmates look like with these eight Lorelai and Luke quotes. We're all in.