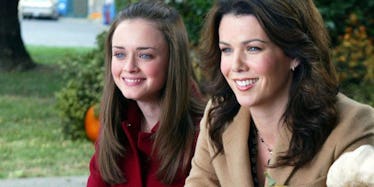 11 'Gilmore Girls'-Inspired Things You Need To Do With Your Girl Crew This Fall
Warner Bros. Television
"Oy with the poodles already"... It's finally fall! My annual tradition is to stream a Gilmore Girls marathon to get me in the ultimate autumn mood. There's just something so magical about visiting Stars Hollow this time of year. It's probably why "Fall" is the last episode in the revival, Gilmore Girls: A Year in the Life -- Amy Sherman-Palladino knows what's up. Plus, when you're thinking of all the quirky events that Stars Hollow puts together, you realize they're all fun fall activities to do IRL. Needless to say, start making a list of Gilmore Girls activities to do with your girl crew this season.
We've all watched the series and wished the charming town of Stars Hollow was a real place so we could go to a picnic basket auction, or a 24-hour dance marathon. And I don't know about you guys, but I've always wanted to find a squad very similar to the characters you would find in Stars Hollow. You need your Lorelai, Rory, Sookie, Luke, and even your Kirk. Until we figure out a way to jump into our TV screens and actually live in Stars Hollow, we have to improvise a bit to live out our dreams. After watching the whole series on Netflix together, here are 11 things you need to do with your squad this fall.
1. Grab Coffee From Your Very Own Luke's Diner
It wouldn't be Gilmore Girls if we didn't immediately mention coffee. I mean, the first words ever spoken in the series are Lorelai begging Luke for more, which is why you and your gal pals should go to your favorite coffee spot and order some coffee and pastries to go. Then, find a gazebo in the park, and enjoy your breakfast for a picturesque Stars Hollow-inspired friend date.
2. Go On A College Tour
Fall translates to back to school season, so what more appropriate time than the present to visit a college campus? Chalk it up to research if you're looking at schools to attend, or if you're already in college, you can visit your friends who go to a university with peak foliage. Just like the episode where Rory and Lorelai visit Harvard, you and your friends can get a lay of the land together.
3. Attend Four Thanksgiving Dinners In One Day
It doesn't necessarily have to be Thanksgiving, but you and your friends can spend the day doing a pot luck at each one of your homes. Every member of the squad can be in charge of different parts of the meal, from the cocktails and appetizers, to the main course and delicious treats for dessert. Maybe someone could even fry a turkey, because it's fall, people.
4. Go Tailgating, Even If Sports Aren't Really Your Thing
Fall is football season. Even if you're not a hardcore sports fan, you can still have fun with your girls tailgating beforehand. I mean, the fried food is downright spectacular, and that's the one thing you know you can find at a tailgate.
5. Throw A 24-Hour Dance Marathon For A Good Cause
The dance marathon is probably one of the more iconic Stars Hollow events, and one we always wanted to attend ourselves. Yes, having Jess and Dean fight over us is also a little bit of a fantasy, but we are mostly in it for the dancing. Find a good cause, and organize your very own event. Just make sure to wear sensible shoes that won't break, because we can't have Kirk winning again.
6. Take A Road Trip To A Charming Bed And Breakfast
A bed and breakfast is always a fun little adventure out of town. Start with an epic road trip someplace where the fall foliage will be absolutely beautiful this time of year. Then, find a B&B like the Cheshire Cat. Hopefully, the décor isn't too flowery and satanic forces aren't at work there.
7. Go Antique Shopping Like At Kim's Antiques
A shopping trip is always a fun ideas for your squad. Keep your eyes out for hidden treasures. Just don't get lost like Rory and Lane always did in Mrs. Kim's shop.
8. Have A Movie Night Like At The Black-White-Read Bookstore
There are so many fall films you and your friends need to watch, that it just makes sense to have a movie night. You can go to your own Doose's Market and stock up on all of the essential snacks you'll need. Then, watch some of the classics you love, so you can quote your favorite parts.
9. Find A Stars Hollow-Worthy Fall Festival
Find a small town fall festival nearby that you and your friends can attend. They have everything from fried food, to carnival games. Maybe if you're lucky, they'll even feature a doggy swami who will read your fortune.
10. Get Lost In A Hay Bale Maze
A corn and hay bale maze is a quintessential fall activity. Find a massive one to get lost in. Hopefully, you don't keep running into your ex like Lorelai and Luke, but we all know they're meant to be so, it's the fates bringing them together.
11. Eat All Of The Fall Desserts Your Heart Desires
The fall is every sweet lover's dream come true, because you can find pumpkin-flavored everything. You and your friends should hit up your very own Weston's Bakery to try out all the fall-flavored treats. Or, if you have a Sookie in your friend group, you guys can host a baking party.
Check out the entire Gen Why series and other videos on Facebook and the Bustle app across Apple TV, Roku, and Amazon Fire TV.