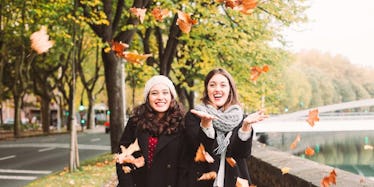 12 Basic AF Things All Girl Squads Need To Cross Off Their Bucket List This Fall
asife/Fotolia
With September just around the corner, it's time to get into that fall aesthetic. Before you know it, the ground will be littered with crunchy leaves, and kitchens around the country will smell like pumpkin pie. The world will be just a little bit cozier and a lot more colorful.
All of the warmth and color of the autumn makes for some epic fall Instagram posts, too. This time of the year is universally celebrated, so it's practically impossible not to appreciate the majesty of autumn and all that comes with it. That being said, you haven't truly rung in the season without taking part in some classic yet basic fall activities.
Truth is, we're all somewhat basic, so we should embrace it. If you get overly excited for Halloween and pumpkin-flavored everything, it's totally OK... because pumpkin seriously rocks. Give in to your autumnal lust this year and indulge yourself in the most classic fall activities. To give you some inspiration, here are 12 basic AF things all girl squads need to cross off their bucket list this season.
1. Get Pumpkin Spice Lattes
As of now, Starbucks hasn't announced this year's release date for the famed Pumpkin Spice Latte, but we can be sure it'll hit stores by the beginning of September. As soon as it's available, you can expect endless autumn-esque Instagram posts about it on your feed, including yours. If it's in the name of fall, it's all good.
2. Rock Those Plaid Scarves In Your Squad Pics
Nothing says autumn quite like a classic plaid accessory. A scarf will look super chic while keeping you warm on those chilly fall nights, so it's a serious win-win. You and your girls can wear matching scarves, or you can opt for different colors to make your pictures totally pop.
3. Take Pics Of Your Combat Boots In The Leaves
Is it even fall if you haven't taken a picture of your boots in the crunchy leaves? You're not wrong if you think this pose is totally overused, but it's popular for a reason. You get to show off your adorable boots while taking in the colors of the season (plus it's aesthetic AF). What's not to like?
4. Go To A Pumpkin Patch
It's so classic, it's practically necessary. This is basically item number one on anyone's autumn bucket list, and it's the perfect place to take your girls. You can find the perfect pumpkin, take advantage of endless photo-ops, and take in the youthful joy of an autumn afternoon at the pumpkin patch.
5. Shop For Matching Flannels
It doesn't get more basic than this. You and your girls can reach ultimate squad status with matching flannels, and you'll look awesome while doing it. The fun you'll have shopping together is just a bonus.
6. Visit A Haunted House
Friends who scream together, stay together. As Halloween approaches, you can take part in lots of scary activities, which is basically just an excuse to either mess with your friends or cuddle up to that guy you're into. Better yet, do both at the same time.
7. Snapchat Every Pretty Leaf You See
It's hard not to get excited when the first few colorful leaves fall to the ground. It means that the world will soon burst into color and the air will soon have a chill. Things are about to get a lot cozier.
8. Browse Pinterest For Fall Fashion Ideas
If you and your girls haven't discovered Pinterest, you're totally missing out. It's basically the perfect way to plan outfits, keep track of ideas, and browse for cool stuff, which totally comes in handy when you're trying to find the perfect fall outfit. You've likely got everything you need already in your closet, and if you don't, one of your girls totally does.
9. Go Halloween Costume Shopping Together
You can't buy a Halloween costume without getting a thumbs up from your friends, so save time and shop together. You can hop from store to store and give each other fashion shows. To spice things up a bit (no pun intended), have a contest to see who can find the strangest, funniest, or scariest costume. Someone has to buy a Pumpkin Spice Latte for the winner, of course.
10. Get Cozy In Your Leggings and Uggs
Leggings are basically the epitome of fall fashion. They're super cute and comfy, and they go with just about anything; what more could you want? For added comfort, slip into your Uggs and revel in the ultimate coziness.
11. Instagram Your Fall Baking Skills
If you made a cookie that looks like a pumpkin, that cookie better be going on Instagram. Not only will you have a record of the amazing thing you've made with your girlfriends, but you'll be sharing the gift of autumn with all of your followers. You have to show off your accomplishments so your friends can comment and tell you how amazing you and your pumpkin cookies are.
12. Get Lost In A Corn Maze
TBH, I can't think of a more autumn-esque way of killing time. This activity is a classic you can usually check off the list as you visit a pumpkin patch, so you'll be killing two birds with one stone. You'll be able to hang with your squad while you figure your way out of the maze, which will give you plenty of time to plan your next fall adventure.