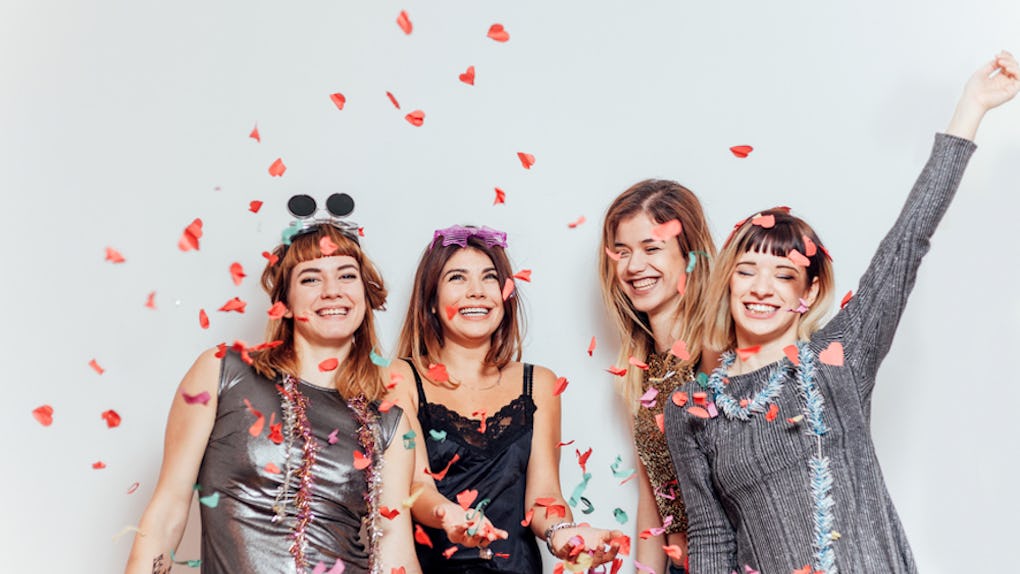 Dimitrije Tanaskovic/Stocksy
8 Instagram Ideas For New Year's When You're Dressed Up With No Place To Go
Strike a pose. This New Year's you might be having a casual night in, but that doesn't mean you can't make Madonna (and your Instagram followers) proud. It's a sad day when you're all dressed up with no place to go. Whether you're just being budget conscious, or way too wiped for the fun and festivities this year, your social media game doesn't have to struggle. Girl, it's time to embrace the goddess you are, and recreate one of these Instagram ideas for New Year's.
Your New Year's Eve isn't just going to be legen-wait for it-dary -- it's going to be visionary! With every girl squad or significant other comes a thousand photo opportunities. Make the most of your imagination, and your closet, to fashion something truly social media-worthy.
If Kendall Jenner could get the most likes on Instagram for a photo of her hair arranged in hearts, then there's nothing saying you and your besties can't lie on the floor and finesse something equally as iconic. (All respect to Kendall Jenner. You and Gigi are my absolute fav.)
Break out the polaroid camera and throw some glitter in the air, or maybe in your hair. After all, it's New Year's, and the city will certainly not be sleeping tonight. Try out these seven totally Instagram-able ideas with your party people, and thank us later for the likes.
1. The "Model Mirror Selfie"
Mirror selfies have gotten an upgrade -- and we're taking our cues from you, Gigi Hadid. You can elevate the average arrangement by making the mirror your backdrop. Put on a little black dress and rock that casual, messy hair. Staying in has never looked so glamorous.
Potential caption: "Poppin' champagne. Living my life in the fast lane. I won't change for the glamorous." - Fergie
2. The "Bored With My Bestie"
Why not be a little blunt or sassy with your boredom? Hanging with your bestie means you're probably dishing out a little tea tonight. So, show social media that sipping from a distance isn't so dreary on New Year's Eve. You have some hot gossip and a hot date, so you're doing just fine.
Potential captions:
"You were my cup of tea, but I drink champagne now." - Unknown
"Drink responsibly." - Unknown
3. The "Staying In With My Squad"
The magic of New Year's Eve is that anything could happen. It's the start of something new, and you could end up singing about it at a karaoke joint, or stuck on a sailboat like one of our favorite sitcom casts.
No matter where you end up, spending the night with your squad will always make for a night well-spent. Snap a pic like this that you'll cherish forever.
Potential caption: "I can't really see another squad tryna cross us." - Drake
4. The "Siblings In The Spotlight"
Do you remember the routine? Of course! If you're a true Friends fan, you've probably been secretly practicing it in preparation for a 'Gram like this.
You and your sib won't be an honorable mention tonight. Find a dance floor and land the big finish. Ringing in the New Year always calls for some jazz squares and jazz hands.
Potential caption: "We better stick to the routine. We don't want to look stupid." - Monica Geller
5. The "Lounging With My Lady"
Luck be a lady tonight. Thank goodness for our gal pals for always being a guaranteed date on New Year's Eve night. Break out the comfy hotel robes and slippers, and have a spa night for the occasion. You and your Instagram will both be looking fresh.
Potential caption: "Be-YOU-tiful." - Unknown
6. The "Real Iconic Duo"
Spending the night with your significant other? Well, I hope you say cheese for a shot like this.
Jim and Pam are already our favorite duo (quickly followed by Leslie and Ben, or Ali and Noah). So, on New Year's recreate their most memorable scenes for social media. Who needs bars and booze when you got your bae?
Potential caption: "You miss 100 percent of the shots you don't take. -Wayne Gretzky. Michael Scott." - The Office
7. The "Pizza Party People"
If you were looking for an excuse to order pizza, now you have one! A pizza party is way better than a regular one. Sure, bar hopping in the city could've been cool, but thanks to delivery, your crew doesn't have to face the cold, and can capture this Kodak moment instead.
Potential captions:
"Surround yourself with pizza and your people." - Unknown
"Slice, slice, baby." - Unknown
8. The "I'd Rather Be Chilling With My Cat"
Cheers to the cat lady in you. A night in would not be the same without your real best bud. Like Winston and Ferguson, you're a dynamic duo, and this New Year's you'll be posting something purr-fect.
Right about meow, people are probably dancing the night away, but your FOMO isn't too bad because you have your feline friend by your side.
Potential caption: "You've got to be kitten me, it's New Years?!" - Unknown