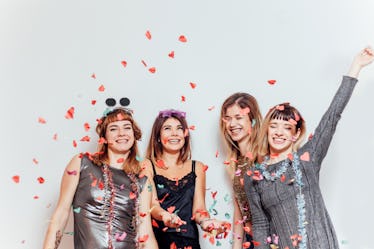 8 Cute Instagram Poses For NYE When You're Dressed Up With No Place To Go
Dimitrije Tanaskovic/Stocksy
Strike a pose. This New Year's you might be having a casual night in, but that doesn't mean you can't make Madonna (and your Instagram followers) proud. It's a sad day when you're all dressed up with no place to go. Whether you're just being budget conscious, or way too wiped for the fun and festivities this year, your social media game doesn't have to struggle. Girl, it's time to embrace the goddess you are, and recreate one of these Instagram ideas for New Year's.
Your New Year's Eve isn't just going to be legen-wait for it-dary -- it's going to be visionary! With every girl squad or significant other comes a thousand photo opportunities. Make the most of your imagination, and your closet, to fashion something truly social media-worthy.
If Kendall Jenner could get the most likes on Instagram for a photo of her hair arranged in hearts, then there's nothing saying you and your besties can't lie on the floor and finesse something equally as iconic. (All respect to Kendall Jenner. You and Gigi are my absolute fav.)
Break out the polaroid camera and throw some glitter in the air, or maybe in your hair. After all, it's New Year's, and the city will certainly not be sleeping tonight. Try out these seven totally Instagram-able ideas with your party people, and thank us later for the likes.