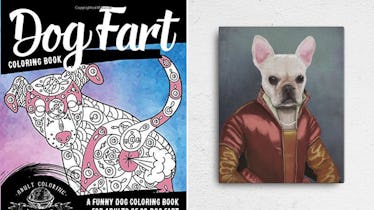 Anyone Who Loves Dogs More Than Life Itself Will Be Obsessed With These 8 Holiday Gifts
Amazon/Etsy
I don't know about you, but I think I might like to shop for my dog more than I like to shop for myself. As a dog mom, there's something about finding an adorable doggie sweater or the perfect cozy blanket for my pup, Hank, that just fills my heart with pure joy. Even human accessories with dogs on them are special because they remind me of my sweet little guy. Fellow dog-loving people are my people, and these gifts for dog lovers are sure to delight anyone on your holiday shopping list this year. From a coloring book of farting dogs to a cozy tent just for pups, you'll be sure to find something for any dedicated dog lover you know.
I won't lie: I kind of want to buy all of these things for myself, or just pass this list along to anyone who asks what I want for Christmas. Anyone who knows me knows that I think canines are the epitome of all things pure and sweet (not to mention cute as can be). All of these gift options are "14/10 they're good gifts, Brent," so get shopping.
To really get you in the spirit, listen to this Spotify dog Christmas album made entirely of dogs barking the melodies to the traditional holiday songs. I'm not joking. This is a real thing, and it is magical.