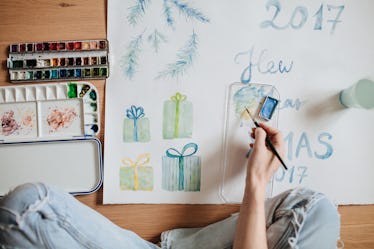 8 Christmas Coloring Books That Are Essential For Any Adult Snow Day
If there's one important thing we've learned from Christmas movies like Elf and The Polar Express, it's that you're never too old for Christmas cheer. The holiday is so comforting and cozy, it's impossible not to feel a little childlike excitement when you're decorating the tree, hanging up the garland, and opening up presents from your loved ones. And, TBH, feeling childlike on Christmas is one of the best feelings in the world. You're blessed with a break from your hectic schedule, and sometimes, that's all we can really ask for. To get in touch with your kid side, it's time you break out the Christmas coloring books for adults.
Yes, I'm talking about actual colored pencils and crayons, color-in-the-lines coloring books. If you're like me, you were kind of sad when you grew out of this phase. Lucky for us crafty individuals, coloring books are back and more festive than ever. Forget decking the halls, because this year, it's all about decking out your coloring book in red, green, silver, and gold.
Any of these eight adult Christmas coloring books makes the perfect stocking stuffer, or a unique combo gift with a set of coloring pencils. Your friends probably wouldn't even think of this cool gift idea, and you can bet they'll be using their books later that day.