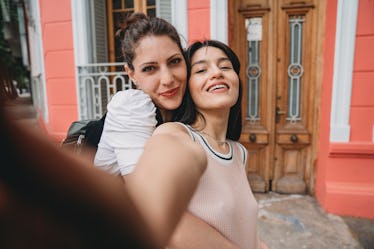 8 Funny Ways To Tell Your Friends You're Engaged In The Group Chat
FilippoBacci/E+/Getty Images
Throughout college, you and your friends may have sent pictures of the engagement rings you like in the group chat. Those pictures were always accompanied by messages such as, "This is what I like just so you know." Now, you may have the exact ring you picked out on Pinterest on your finger, and it's time to tell your friends that your partner popped the question. You're not a cheesy person, so you need some funny ways to tell your friends you're engaged that'll make this moment memorable and giggle-worthy.
So far, you may have thought of quoting Beyoncé and sending a picture with the caption, "Put a ring on it." You may have considered a meme or GIF from your favorite television show that everyone would decode and understand within seconds. The reason why you're looking for pointers, though, is because this moment — telling your friends that there's going to be a wedding in the near future and you're getting married — is an exciting milestone. To say the least, you want it to be right and totally you.
You don't want to hit "send" until you're super confident that your sweet announcement will rack in the laughs and the messages that say, "OMG!" Don't fret. Launch into this romantic season of your life and relationship with a full heart and lots of ease. Tell your friends that you're engaged in one of these ways.