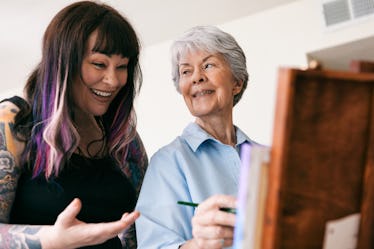 If You're Tight On Cash This Mother's Day, Here Are Some Free Ways To Spoil Your Mom
Mother's Day is just a few short days away, and with this holiday typically comes flowers, chocolates, and lavish displays of affection. And even though there are countless opportunities to shell out money for thoughtful gifts for your mom, that doesn't mean there aren't just as many free Mother's Day gifts that'll mean just as much, if not more to her, without you having to break the bank along the way. Mother's Day is defined by the celebration of family, and really, that's what matters most at the end of the day — not the monetary value of the gift you choose to give.
Luckily, Mother's Day takes place during the beautiful month of May, which means you're able to take all your love and appreciation to the great outdoors. This is always a bonus when you're trying to plan something with a budget (even a technically nonexistent one) in mind — unless you or your mom have allergies, in which case, you might have to get creative indoors.
Either way, there are plenty of ways to show your love and appreciation for that special lady in your life. From sentimental gestures to simple acts of kindness, there are tons of ways to show your mother how much you love her without spending a dime. Here are eight totally free ways to celebrate your mom on Mother's Day.