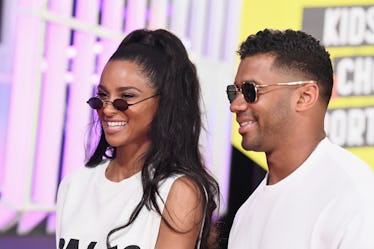 8 Famous Football Couples That Aren't Tom Brady Or Gisele Bündchen, But Are Still Total #Touchdowns
Emma McIntyre/Getty Images Entertainment/Getty Images
Football and romance are not exactly two words you often hear in the same conversation, but hear me out: Believing in your team with an unconditional, unbending loyalty is not unlike a relationship. Not to mention, the sport requires teamwork, patience, passion, and of course, a lot of physical contact. So it's no surprise that there's a plethora of famous football couples. And no, I'm not just talking about Tom Brady and Gisele Bündchen (although, TBH, #goals). Sure, they have a combined net worth of about $580 million, two beautiful children, and seemingly unparalleled devotion to each other. But they're not the only power couple in the league.
In fact, many pros have found love while playing for the NFL. Case in point: Jay Cutler and Kristin Cavallari, who began dating long-distance back in fall 2010 while he was playing for the Chicago Bears. Mere months later, in spring 2011, the quarterback proposed to the star of The Hills. The couple tied the knot in 2013 and now have three (very stylish) children. Then there's Kerry Washington and former cornerback Nnamdi Asomugha, who also wed in 2013 and have two kids together. Now, Asomugha is producing the Scandal star's Broadway show American Son — because couples who work on creative passion projects together stay together, right?
There's certainly no shortage of famous football couples, but as Super Bowl Sunday fast approaches, here are a handful that make us believe in love (and the league) again.
This article was originally published on