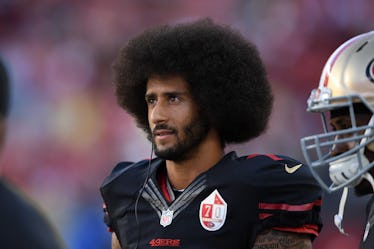 Colin Kaepernick's Nike Commercial Is Here, So Prepare For Its Powerful Message
Thearon W. Henderson/Getty Images Sport/Getty Images
Colin Kaepernick may be a controversial name in sports right now, but he's using his fame to bridge as many gaps as he can. And he's doing it with a new Nike commercial for the company's 30th anniversary "Just Do It" campaign. The commercial, which was released on Wednesday, Sept. 5, features Kaepernick taking center stage in an effort to encourage athletes of all types to be persistent and dream big. Colin Kaepernick's Nike commercial is all about making dreams come true, no matter how humble your beginnings.
The commercial's powerful message puts a slew of diverse faces to Nike's mission — empowering athletes everywhere to be the very best they can be, and then some... at whatever the cost.
Kaepernick narrates the 2-minute clip with anecdotes about some of the world's most inspiring athletes. While some faces are bound to be familiar to viewers, many others are not. And that's kind of the beauty of the commercial as a whole: It puts a spotlight on greatness regardless of an athlete's name, level of fame, or chosen sport.
"People say your dreams are crazy. If they laugh at what you think you can do, good," Kaepernick says in the commercial. "Stay that way. Because what non-believers fail to understand is that calling a dream crazy is not an insult, it's a compliment." His words are juxtaposed with images of athletes, both famous and not, from all around the world. At one point, there's footage of Kenyan long-distance runner Eliud Kipchoge.
Kaepernick offers some sage advice to highlight Kipchoge's road to success. "Don't try to be the fastest runner in your school, or the fastest in the world. Be the fastest ever."
One of the more memorable moments in the commercial is a stream of images of different athletes who have achieved the impossible. Meanwhile, Kaepernick narrates, "Don't picture yourself wearing OBJ's jersey, picture OBJ wearing yours. Don't settle for homecoming queen or linebacker, do both. Lose 120 pounds and become an Ironman, after beating a brain tumor."
Here's a look at the commercial in full:
Both Nike and Kaepernick posted the commercial on their social media accounts. And according to ESPN, it's set to officially debut during the NFL regular-season opener on Thursday.
In an initial ad for the "Just Do It" campaign, Kaepernick appears close-up with text that reads, "Believe in something, even if it means sacrificing everything."
The teaser ad has caused some controversy since it was made public on Monday, Sept. 3. Fans who aren't on board with Kaepernick's desire to kneel during the national anthem to protest ongoing police brutality in the United States have been destroying their Nike gear. They're apparently taking the ad to mean that Nike is choosing sides in the anthem protest debate, which is rubbing them the wrong way.
Despite the backlash, Nike seems to be moving forward with its plans to put Kaepernick at the front and center of their campaign.
No matter which side of the debate you happen to be on, there's no doubt that the commercial itself and its overarching message are powerful.