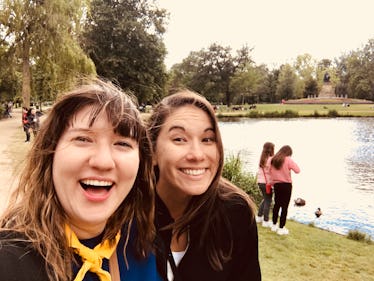 8 Fall Traditions I Have With My Sister That Have Kept Us Close Since Day One
There's no doubt in my mind that fall is my favorite season of all time. I love the weather, change in nature, holidays, pumpkin spice everything, and being able to wear cozy sweaters every single day. Though, out of all the things I love, the traditions I have with my sister are what I cherish most. From living at home together, to now living in different states, we've kept these traditions alive over the years, and they have only continued to strengthen our bond. In fact, I think these are some really spectacular fall traditions to have with your sister if you don't already have some of your own.
If you have a great relationship with your sister, you know she's more than family. She's a best friend for life who knows exactly how to make you laugh, and has been going on adventures with you since day one. No matter what stage you're at in life, you're always looking to get closer with your number one girl. So I highly recommend adding any, if not all, of these traditions to your to-do list ASAP.
I live long-distance from my sis, so we have to get creative with how we stay connected. Of course, we text all the time, but planning yearly traditions is how we still get to share experiences that become inside jokes and funny stories to tell. These traditions also give us something to look forward to. If I'm ever missing my sister, I know I always have the fall coming up again where I can do these eight activities with her.