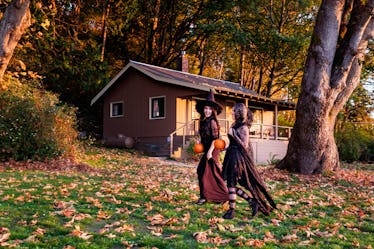 10 Halloween Traditions To Start With Your Sister In Your 20s & Continue Forever
Your sister has been your Halloween buddy since you were counting your king-sized candy bars on the living room rug. You've coordinated costumes and filled multiple pillow cases together. You two know how to creep it real at all times, and that's why there are plenty of Halloween traditions to start with your sister in your 20s.
Just because you're older doesn't mean you two can't fully take advantage of a boo-tiful night like Halloween. You never needed an excuse to hang out with your sister, but when seasonal festivities are involved, she's the first person you think about. Whether you're tag-teaming a costume party or living your best lives indoors, you need to establish little traditions that you can share forever.
She's your girl, and it's never difficult to come up with fun things to do together. On Halloween, you have to find resourceful ways to bring back that childhood nostalgia. Sure, those days are in the memory books, but you've got your sis to help you bring those carefree vibes back.
Even if you aren't trick or treating, you deserve something sweet and memorable on Halloween. After all, adulting can't be all work and no play. So, grab your sis and start any of these 10 traditions for the long haul.