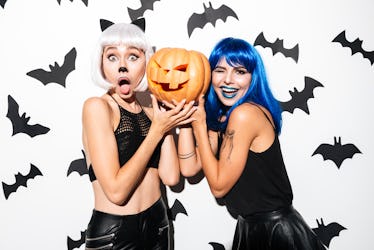 10 Halloween Traditions To Start With Your Bestie Now For A Hauntingly Good Fall
Halloween is all about pumpkins, haunted houses, Insta-worthy costumes, and eating as much candy corn as possible. When it comes to those particularly festive activities, there's no one else you'd rather do them with than your best friend. She's the PB to your J, or better yet, the pumpkin spice to your latte. You spend so much time together that you're practically family, which means you should kick off the season by starting some of your very own holiday traditions. If you don't already have a few of your own, I came up with some Halloween traditions to start with your best friend this year.
Every fall activity on your to-do list needs to be checked off with your BFF by your side. You already have things like pumpkin carving and watching Hocus Pocus on the agenda, but just like your friendship, you can make these events unique to you. By adding in a few bestie-only details, you turn a fun time into a special BFF moment you'll want to continue for years to come.
Halloween only comes once a year, and you don't want to waste a single moment. That's why you and your BFF need to start these 10 Halloween traditions ASAP for a truly hauntingly good fall.