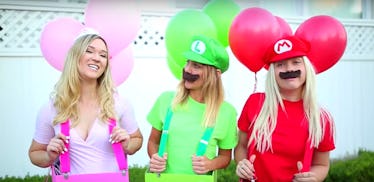 25 Captions For Your Group Halloween Costume That Screams #SquadGhouls
Coming up with a cool Halloween costume every year is more difficult than it should be. You go back and forth between ideas, and may even end up choosing one that's the easiest to pull off last-minute. The struggle is all too real. Though, it doesn't have to be when you've got an awesome squad by your side. Group costumes are always a great idea for Halloween, and the best part is when you get to post a pic later on of your whole crew slaying it. That's where group Halloween costume Instagram captions will come in handy, and I've got you covered with the best.
Not only is it fun shopping around with your besties when you're getting your costumes together, but there's no better feeling than walking into a Halloween party and all eyes are on your crew. With so many great group costumes to choose from, your friends will have fun picking out the best one that represents your squad.
So, when you're getting ready together this Halloween, make sure to turn up the music, dance around, and snag a great group pic before heading out. Then, use any of these 25 Halloween captions for your post, and have the best time with your number one crew of ghoulfriends.
1. "We're squad ghouls." — Unknown
2. "These are our resting witch faces." — Unknown
3. "When women get together as a group, it is immensely powerful." — Annie Lennox
4. "We're the cutest pumpkins in the patch." — Unknown
5. "Something wicked this way comes." — William Shakespeare
6. "Find a group of people who challenge and inspire you, spend a lot of time with them, and it will change your life." — Amy Poehler
7. "We don't meet people by accident. They are meant to cross our path for a reason." — Unknown
8. "Trick or treat. Squad on fleek. Give us something good to drink." — Unknown
9. "These are my boos." — Unknown
10. "Just hanging out with my ghoul friends." — Unknown
11. "Are you a good witch or a bad witch?" — The Wizard of Oz
12. "Having this crew as my friends is fang-tastic!" — Unknown
13. "I love you dearly, but if we are in a graveyard and something grabs you, you're on your own." — Unknown
14. "Eat, drink, and be scary." — Unknown
15. "All you need is that one ride or die homie." — Unknown
16. "We're bad guys. It's what we do." — Suicide Squad
17. "You can't do epic sh*t with basic witches." — Unknown
18. "I can't really see another squad tryna cross us." — Drake, "No Tellin'"
19. "Feelin' witchy." — Unknown
20. "We're just creeping it real." — Unknown
21. "Bow down witches, my squad's coming through." — Unknown
22. "We put a spell on you." — Unknown
23. "You think your friends are better than mine? Witch, please." — Unknown
24. "You can't sit with us." — Mean Girls
25. "Alone we can do so little; together we can do so much." — Helen Keller