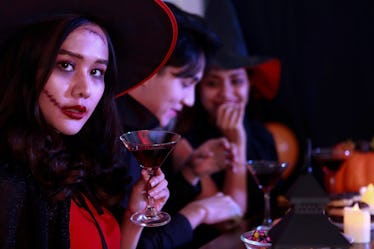 25 Captions For Halloween Selfies, When You're Ready To Flip The Witch Switch
Shutterstock
Halloween season is here. Your favorite costume stores are open for business, and you have a random urge to break out your cat ears and eat candy corn all day long. Even if you don't have the perfect costume picked out quite yet, you'll want clever captions for Halloween selfies, because you can never be too prepared for all of the parties and spooky shenanigans to come.
Just because the vibes are a bit different this year — meaning trick-or-treating may be out of the question — that doesn't mean your sweet tooth ceases to exist. Get your grub on and buy bags of Halloween candy for yourself. (OK, maybe you'll share a few pieces with bae.) Halloween's not always about going out, though. If you're staying in with a select few people and dressing up, that's cool, too. Take it back to the Myspace days with a good ole bathroom selfie and any of these 25 captions to go along with it:
1. "Making all of them ghouls jealous."
2. "Spooky selfie for the win."
3. "I might be a ghost, but there's no seeing through me."
4. "Forget about all of those other witches."
5. "I've been waiting to ride on my broom all year."
6. "Witch better have my candy."
7. "At this point, my blood type is Halloween."
8. "This is my lazy evil queen costume. Do you like?"
9. "Take me where the wild things are during the spookiest time of year."
10. "You didn't wear a Halloween costume if you didn't pose for a selfie."
11. "You'll find me howling at the moon after midnight."
12. "My life has been a Halloween filter since September."
13. "I strive to creep it real, even when it's not Halloween."
14. "It's Halloween, so be sure to trick or treat yo' self."
15. "Hey, you say witch like it's a bad thing."
16. "If you can't stir with the big witches, you can always step away from the cauldron."
17. "There ain't no rest for the wicked." — Cage The Elephant, "Ain't No Rest For The Wicked"
18. "Home is where you park your broom. No valet, though."
19. "Don't make me flip that witch switch."
20. "She brings a little trouble everywhere she goes."
21. "Don't make me get the flying monkeys."
22. "I'm a good witch most of the time."
23. "Does this smile make it seem like I'm up to no good?"
24. "The fright is the way. C'mon in."
25. "I happen to accept free candy all year long. Thanks."
This article was originally published on