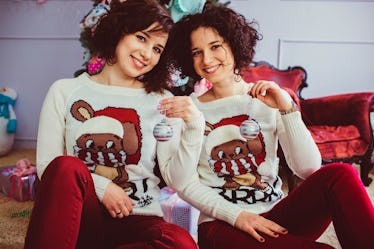 7 Holiday Traditions That Only Feel Right With Your Sister By Your Side
Your sister is that huge reminder that not all gifts are given to us on Christmas. For some of us, we get to experience a gem everyday. So, when the holidays roll around, we already know it's going to be magical. That's why there are holiday traditions with your sister that really wouldn't feel right with anyone else, because she's the best holiday partner of all time.
Besides the fact that it would be super excruciating not to have her around for the holidays, there are some things you literally couldn't do without her. Seriously, you'd feel completely out of whack and probably spend the entire time talking to her through video chat about how you are totally incomplete without her by your side. Call it being sister-privy-only or whatever, but your sis puts an extra jingle in those holiday traditions.
Don't blame us — our parents are the ones who brought us together, and we have no intention of parting now, even in adulthood. Those deeply-rooted childhood traditions aren't going anywhere, and we are so grateful for our partner in crime who hasn't left, either. If you have a sister, you already know the deal, and if you don't, don't be surprised if your friend cancels plans just so that she can partake in any one of these traditions with her favorite Santa's helper.