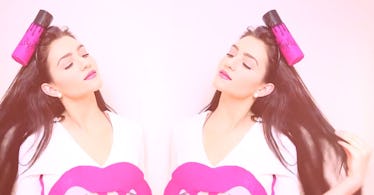 8 Kylie Jenner Lip Kit Costume Ideas For The Super Fan Looking For A Last-Minute Look
Hate to love them; love to hate them. We can't help it, but the Kardashians are on everyone's mind. You probably know more about this family than your own, which is why we're all familiar with Kylie Jenner and her lip kits. They're huge, and even for someone that doesn't obsess over makeup, I've found myself looking to get one. It's so well known, but not everyone has Kylie on the mind this year, since the lip kit mania has kind of died down. But that's the best tie to be something for Halloween: when you know 100 other people won't be wearing the same thing. And some of these easy Kylie Jenner lip kit costume ideas are really smart.
It's right under your nose, especially if you're standing in your bathroom and your makeup is literally right there, but you would never think to wear a Kylie Lip Kit-inspired Halloween costume. You can either go as the packaging, something inspired by it, or just use the makeup to create a cool Halloween look. I mean the melting lips logo is pretty recognizable that all you really need is that for a costume. The possibilities are about as endless as the shades of lip color you can get. If you need some inspiration for your own look, here are eight easy DIY Kylie Jenner Lip Kit costumes. You can either copy them or make your own. Either way, you know you'll look fabulous this Halloween so pucker up and smile for the camera.