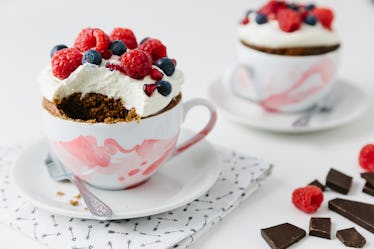 8 Easy Microwave Desserts For When You're Feeling Lazy AF But Want Something Sweet
If you have a major sweet tooth, you probably dream in freshly baked chocolate chip cookies and red velvet cupcakes (with cream cheese frosting, naturally). Sweets just suit your fancy, and you really wouldn't have it any other way. But when you're too lazy to take a trip to the store to buy all of the ingredients, and then spend hours in the kitchen perfecting your sugary masterpiece? SOS. We've all found ourselves in the same boat, and the struggle is all too real. We need sugar, and we need it now. That's why one (if not all) of these desserts to make in the microwave will easily become your new best friend.
Microwaves are incredible inventions that do what giant ovens can do, but in way less time. We have to get back to appreciating our buddy, Mr. Microwave. He can totally help a girl out when you're in dire need of a brownie, but don't have the energy to make an entire batch. Along with your microwave, these eight dessert recipes will totally save you when you're feeling lazy AF. In a matter of seconds, you will have a beautiful, chocolatey brownie staring you in the face, ready to be devoured. It's something you will love a choco-lot, and that is truly sweet.