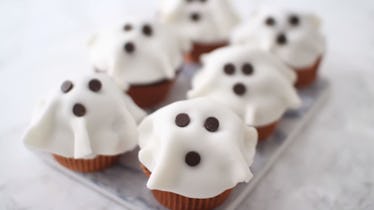 8 Dairy-Free Halloween Treats Your Party Seriously Needs In Its Life
Hosting any party can come with some major stress. You need to have the right music and food prepared that will hit a home run with your guests. It's hard to please everyone, but that's what we're aiming for. If you're hosting a Halloween soiree, you most definitely want it to be an epic night to remember — right down to the tasty snack spread you have planned. Nowadays, it seems like everyone has some dietary restrictions, so you want to make sure you cover all of your bases. That's why it's necessary to have some dairy-free Halloween treats on hand that all of your friends can eat.
You can find vegan or dairy-free recipes for almost every Halloween treat you were planning on making, so you don't have to worry that any of your friends will be missing out. Just like you want to provide for all of your guests, your dairy-free friends most likely don't like to come across as "that person" who makes a big deal about how they can't eat some things. Looking over these eight dairy-free Halloween snack recipes, I'm sure you'll find something you want to whip up for your entire squad to enjoy. So, don't let your Halloween party become a frightfully scary night with little to eat, because it's supposed to be a thriller night (but even a zombie's got to eat).