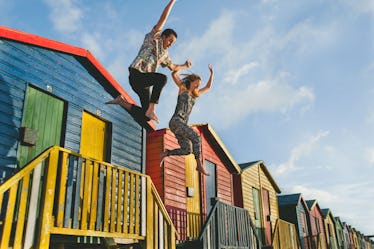 8 Creative Ways To Celebrate Your Monthly Anniversaries, Because They're All Special
When you're in a relationship, it can be hard to not fall into a habit of laziness. You've got your boo thang and you know they'll love you through anything, so it's totally understandable to tone down the effort once you're out of the honeymoon phase. Nevertheless, you might still want to do little things here and there to make sure your babe knows you care. So, read on, because these creative ways to celebrate your monthly anniversaries are just what you need to keep the spark alive.
No matter how long you've been together, it's easy to get into a slump and forget to celebrate the little things. Sure, you'll probably remember your one-year anniversary, but what about your 10-month anniversary? It's also important, and you could do something fun, simple, and cost-effective to celebrate it.
Not every celebration with your partner has to be big or expensive. There are a lot of ways you can take the time to honor your relationship and how far you've come. You both deserve some time set aside to reflect on each other, how happy you are, and what's to come. So don't stress about it, but try and do something special together, even if it's just a little something.