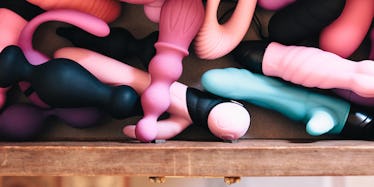 Ladies, These Are The Only Sex Toys You Actually Need To Buy
Vera Lair
I feel like no matter how many articles I write, experts I talk to or angles I take, the one thing I'm always asked is this: But what do I REALLY need?
Meaning, what are the toys that are absolutely essential to a girl's bedroom arsenal? This is a complicated question. I guess what it really comes down to is what you're looking for.
That is where the next question comes in: What the f*ck am I looking for?
I decided to embark on a journey, children, to make you the all-inclusive beginners' guide. What you have in your treasure chest is imperative. There are basics that every lady should own -- a sex-toy wardrobe, if you will.
To help me in this harrowing endeavor, I recruited Claire Cavanah, co-founder of Babeland and the co-author of "Moregasm: Babeland's Guide to Mind-Blowing Sex." Who better to assist than the reigning lady of one of my most frequented sex-toy boutiques?
As Claire puts it so very eloquently:
Sex toys allow us to stimulate more than one sensitive spot at the same time. They let us experiment with sensation and different types of stimulation. They enhance our capability to bring a lover or ourselves to a mind-blowing orgasm. Sex toys free us, bring out the best in us, and I think they can make the world a more passionate and peaceful place.
So, without further ado, here's the skinny from some hoes who know their sh*t. I give you all the sex toys a girl ACTUALLY needs in her goodie drawer. You can thank me later.
A good vibrator
Ladies, let's start with the basics. I know this sh*t sounds rudimentary, but if you're going to build a solid sex-toy collection, you better have a solid foundation. This is where a vibrator comes in. As Claire tells us, your vibrator should be reliable to get you off every single time.
It is the crux of your goodie drawer. It is where everything begins and where everything else is built upon. If you were Jesus, your vibrator would be f*cking St. Peter. Most women REQUIRE (read: not "like" or "prefer," but RE-f*cking-QUIRE) clitoral stimulation to get off.
What you should buy for solo play (or play with your partner; it's all good):
Claire recommends the Magic Wand and the Form 2. Both of these puppies have a lot of power and bunch of intensity settings. They're also very easy to use, which is essential AF when you're trying to have some "me" time without a bunch of confusion and bullsh*t.
Magic Wand, $60, Amazon 
Personally, I love the Form 2 as well. It's among my favored jewels in my orgasm crown.
Jimmyjane Form 2, $91, Amazon 
For a smaller, more financially viable option, I enjoy a little bullet vibe like the Speed Bullet. This isn't my exact vibe, but it looks just like it.
Look, I know vibrators are expensive. I get it. But a vibrator is an INVESTMENT IN YOURSELF. It is the gift that keeps on giving. Instead of buying all of that bullsh*t from Nasty Gal this month, buy a vibrator. It lasts forever. It's worth it.
A G-spot stimulating toy
If you've got a good clit stimulator, you're killing, but you definitely need something to get your G-spot going, too.
What's a G-spot, you ask? Let's get that down before we get to the toys. It's located just under the hood of your va-jay. If you put your pointer and middle finger inside and make a "come hither" motion, there is a walnut-textured patch right there, behind the pubic bone. You can physically pull someone by her G-spot.
It's pretty dope. It's a very sensitive area and you should f*ck with it.
What you should buy:
Claire recommends the Pure Wand or a Candy Colored Glass Dildo. It may sound a little scary to put glass up your hoo-ha, but not to worry. It's super-high-quality material.
Candy Colored Glass Dildos, $120, Babeland 
What makes these toys so baller is that the hard material makes it ideal for stroking and putting pressure on the G-spot. Using these toys with your man (or lady) is very hot.
I use the Boss Lady. Because I'm a boss b*tch. I love the realistic look and the bright color. It's got some seriously powerful settings. It's hard, but it's easy to maneuver inside the vagina. Mmmm. Mama likes.
A vibrating cock ring
Every single girl should own a cock ring. This is something I firmly believe in. It literally turns your man's junk into a vibrator. It's f*cking awesome.
How it works: You take the cock ring and turn it on. It will start to vibrate. Follow the instructions for your particular model. So far, I've never found one I couldn't figure out. You then slip it down your boo's hard shaft.
Ooh Cock Ring, $15, Babeland 
I actually had my first orgasm through penetration while bae was wearing a cock ring. I swear to you, this shit is otherworldly. Listen to Auntie Gigi. You need one, okay?
What you should buy:
Claire recommends the cock ring from the Ooh collection. It's only $15, so you can manage. Personally, I have a janky piece of s*t cock ring from a seedy sex shop in Ithaca, and it works just fine. I'd say go with a nicer one. It's not going to break the bank.
Butt toy
OK, not everyone is into anal, but I'm of the persuasion that everyone should, at least, TRY anal. It's so in right now. And it can be totally hot. There's not just anal sex to be had, though; there are butt toys to play with!
Remember: LUBE, LUBE, LUBE.
Start with something small and not too scary. Your butthole is literally TINY. Don't go shoving some huge thing up in there right away. You don't want to hurt yourself. It should all be fun, refreshing and gentle on your rear.
What you should buy:
I'm a big fan of the Doc Johnson butt plug. Mine is small and hot pink. Not scary at all and works really well for double penetration when bae and I have sex.
Doc Johnson Butt Plug, $9, Amazon 
Claire suggests the LoveLife Explore. It's small, friendly and won't scare the literal sh*t out of you. The year of the booty lives on!
LoveLife Explore, $29, Amazon 
Couples vibrator
I think every couple should have a toy to use together. It adds a layer of intimacy and pleasure to the fold that brings you closer. A couple-y vibe allows you to get the much-needed clitoral stimulation during intercourse.
What you should buy:
I have been a huge advocate for the Eva for a long time. It's a palm-sized toy that looks a little like a beetle and sits over the clit during sex. It's completely hands-free. It's wings hook under the lips of the labia. You will come every time. For a full, in-depth look at Eva, check out my article on it here.
Eve's Couple Vibrator, $105, Amazon 
Another good option is the WeVibe. I really like this vibrator as well. It easily hooks right into the vagina and sits above the clit. You get all the stimulation you need during sex! Ugh. It's all so f*cking wonderful.
Restraints
Interested in a little bondage? I think all ladies have a taste for the kink. If not, OK. That's cool. You do you, mama. Live your best life.
But if you are, here is what you NEED. You don't need to buy some fancy flogger or blindfold. You can use things around the house for this: a T-shirt for a blindfold, and a wooden spoon for a flogger. It can all be makeshift.
I happen to have the best orgasm when I'm tied up. If you're anything like me, heed my advice.
Some may disagree, but I say you need under-the-bed restraints. Claire agrees, as ropes can be dangerous if not used correctly. Under-the-bed restraints are an entirely safe way to enjoy a little bondage.
How they work: You just take the long restraints and slide them under your mattress so that the cuffs hang out on either side of the bed. The straps are made of Velcro, so there's no chance of getting stuck or being overwhelmed.
What you should buy:
If you're getting under-the-bed restraints, try these. Remember, safety first!
Under the Bed Restraints, $65, Babeland
For more information, just ask for it!
If you still have questions, check out Babeland. Trust me, they rule. Their staff has probably some of the nicest, coolest, most knowledgable people I've ever met. And if you want to ask me, leave your questions in the comments.