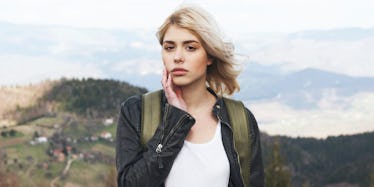 I Tried The First Hands-Free, Feminist Sex Toy And It Went Exactly How You'd Expect
After somewhat obsessively reading about the first-ever hands-free feminist sex toy (yeah, I know, it's a mouthful -- lol?), I knew I had to try it out for myself.
I'm one of the many women who can't usually achieve orgasm from penetration alone. In fact, according to Kinsey, 70 percent of women require clitorial stimulation to get to the big O.
Eva, the small, beetle-like sex toy was designed by MIT engineers to help bridge the gap between a man and woman's pleasure during sex.
It's a clitorial stimulator that a) you don't need to hold in place, and b) will give your clit the extra "push" it needs during sexual intercourse to allow you to achieve orgasm.
For more information, check out the story behind Eva. When Dame Products reached out and offered me a chance to give Eva a whirl, I couldn't say no. This baby retails for $135, so I needed to see if it was worth its weight in orgasms.
I had to say, what killer timing! A new, orgasm-guaranteeing sex toy just in time for Valentine's Day.
Of course, then I thought, "Where am I going to find someone to spend Valentine's Day with me and a sex toy?" Then, I remembered: I had a boyfriend.
My man, bless him, is open to helping me experiment with these kinds of things.
I do worry about his mother reading this and already throwing me on the Girlfriend Blacklist, which I imagine all mothers have somewhere locked away in the corners of their maternal brains.
Sorry, Mrs. My-Boyfriend (I'm not allowed to use his name; it was part of the deal), but your son got me chocolate so I got him a vibrator. Also, sorry to my own parents.
Day 1: "Yo, check out this huge vagina beetle."
On a chilly day with the sun up high, Eva arrives in her silver, tranny disco box. It's blue and I like that. It's not gender specific, which I find comforting.
I wonder if guys find it less threatening to their manhood (*EYE ROLL*) since it's blue? Maybe they'll see it as more of a wingman than a robot vagina that says, "Your dick ain't gon' cut it, bruh."
In my initial research, I thought Eva was f*cking huge and the diagram was kind of scary.
It looked like the size of a whole palm and honestly, how are you supposed to get a palm to stick to your labia? Your vagina is not the size of a palm. (Is it? JK.)
See the diagram below to understand how you put Eva on. No, it does not go on your boyfriend's dick
The toy is smooth and soft, so I highly doubt it's going to hurt. The intensity of the three settings is god-damn bananas. The highest setting made vibrations all the way to my shoulder.
Overall, the ladies of Elite Daily were pretty confused as to how it worked. It looks a lot like a giant beetle with two movable wings. This thing should have a manual.
Eva is indeed, f*cking enormous so I'm definitely anxious to see how this thing fits inside of a vagina. It's a little intimidating -- only in the sense it looks like it needs to stretch your labia to fit in there. I wonder if that will be uncomfortable.
‌‌Of course, the first thing I do is shoot a text to my boyfriend saying, "Eva has arrived!"
Someone in the office also pointed out it looks alarmingly like a Bluetooth. I'm in no rush to stick this to my head.
Day 2: "Let's strap this bad boy to my lady parts!"
The first trial was a little awkward at the start, but it could've been due to lack of lubrication. We were so excited to give Eva a whirl we forgot foreplay, so penetration was slightly uncomfortable at the onset of intercourse.
I was like, "GET IT IN!" but I didn't actually say that because I respect my boyfriend as a human and not just a piece of man candy. Okay, mom?!
We also had a little hiccup with the toy not staying in place, but once it was secure, she stayed where she belonged.
I had three orgasms, which is a lot for me (okay... A LOT for anyone). I can usually orgasm if there's clitoral stimulation, but this took all the work out of doing the job for both me and my boyfriend.
What made the difference was my boyfriend's man body pushing against the toy on its highest level of vibration. I had it on the lowest setting, so I went for the second one and was like, "F*ck that," and eventually cranked that bad girl to the hilt.
The body pressure between us both is what lead to orgasm, so Eva is clearly a toy meant to be combined with intercourse. I can see how this is kind of a robot wingman for dudes. I asked my boyfriend if he could feel Eva and he reported he could, but only very slightly.
We stuck to good 'ol missionary because I was afraid the toy would make like my ex-boyfriends and peace out of my vagina.
Day 3: "Let's change it up! After all, this isn't my first rodeo."
Valentine's Day means only one thing: trying a new sex toy in a new position.
When we got to our "romantic Valentine's Day getaway destination," we basically had sex before doing anything else -- well, besides buying whiskey. I had to get Eva out of the bottom of my bag, which momentarily killed the mood. Not Eva's fault. We're cool, Eva.
We went from missionary to cowgirl -- and when I got on top, there was no issue with Eva staying put.
Cowgirl caused some discomfort in the beginning; the angle was weird with my back straight, but lying over him made for much better clitoral contact, and I was able to achieve orgasm.
Once I got mine, my gentleman lover got over sharing me with Eva and threw her out of the picture for the duration. I guess he was over my cyborg vagina.
Day 4: "Don't try doggy style."
Doggy style, my personal favorite sexual position, was not ideal for Eva -- and that's putting it gently. The position generally doesn't provide a lot of clit stimulation to begin with, especially without a reach-around move.
So, it was awkward bringing Eva into the mix while I was in doggy position.
After trying it ourselves, I certainly wouldn't recommend bringing her into the game if you're planning to have your man get behind you like a horny Golden Retriever. It just won't stay where it's supposed to.
When all was said and done:
Since my legs were much closer together in doggy-style, it was impossible to allow room for Eva's chunky body to attach comfortably.
So, keep in mind, she's more for spicing up the vanilla, conventual positions, as opposed to offering technology-induced pleasure during your more intense sex romps.
After conducting much research (for science!), I've concluded Eva is a decent sex toy/addition to the bedroom because it does allow for orgasm every time. But, as kind as she was, she's definitely a little b*tch when it comes to staying in place.
I wouldn't use it during every coital encounter because it's a little awkward to strap it on and also makes a very loud buzzing sound, which can flatten the mood during a rigorous hump sesh.
All in all, Eva is definitely a great "helping hand" -- especially when you don't want to to depend on the hand of a partner, your own hand, or a hands-needed device to bring you to Glory.
But, does it close the pleasure gap? Sure does.