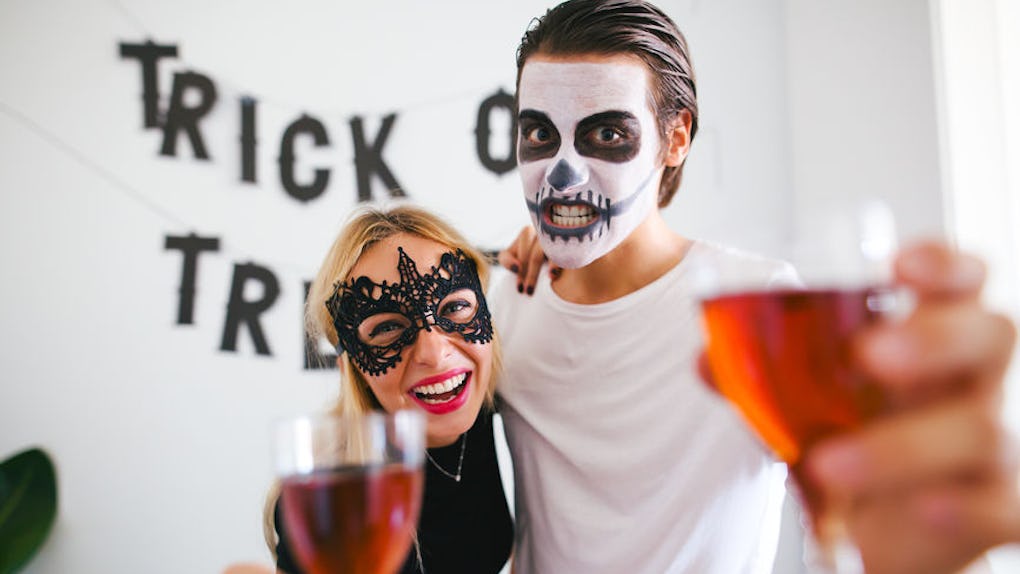 BONNINSTUDIO/Stocksy
8 Classic Couples Costumes For Halloween 2019 That Are Timelessly Foolproof
The PSLs have made their triumphant return, the fall beers are flowing, and whether you've accepted it or not, Halloween is fast approaching. That means it's time to start brainstorming your and bae's coordinating costumes, fam. Because no one wants to scramble to put together a lame last-minute ensemble for a party. Luckily, there are a plethora of couples costumes for Halloween 2019 that are not only easy peasy to assemble, but also cute AF. As in, your Instagram post is bound to rack up the likes, #nofilterneeded.
There's something especially fun about a costume idea that takes two. Not only is it often easier for others to guess what you're dressed up as when you come as a dynamic duo, but it also serves as a bonding experience. Undoubtedly, you and your boo will get a kick out of looking back at the photos of your joint costume and remembering the process of putting it together.
When it comes down to it, the best couples costumes are the ones that both reflect your unique personalities and interests while referencing the past. Need some ideas? Whether you're hitting up your bestie's bash or heading to a local bar, here are a few clever and creative couples costumes that are simply timeless.
Harry Potter & Hermione
Whether or not you were crossing your fingers that Harry and Hermione would get married and live happily ever after, one thing's for sure: These two had a friendship unlike any other in the Wizarding World. Fortunately, paying homage to these beloved besties is fairly simple.
Hermione should wear a white button-down, pleated dark skirt, v-neck vest, a tie in the Gryffindor colors (scarlet and gold), and a black robe. Don't forget the dark knee-high socks and Mary Jane or loafer shoes. For Harry, you'll need a white button-down, black pants and black shoes, a sweater vest, a striped scarf in the Gryffindor colors, and a pair of round glasses. Bonus points if you give Harry a wand and use makeup to create a lightning-shaped scar on his forehead.
Cruella De Vil & A Dalmatian
Honestly, is there any villain more epic than Cruella de Vil? She drives a baller set of wheels, she rocks fur like no other, and her distinctive half-black, half-white hair is a full #lewk.
Given that the live-action reboot of 101 Dalmatians is in the works, it only makes sense to pay homage to the Disney classic with a couples costume. For Cruella, grab an all-black ensemble, a long spotted faux-fur coat, red gloves, a wig, and a cigarette holder. For the Dalmatian, try adding black polka dots to a white sweatsuit or PJs, and a pair of ears to a hoodie or headband.
Jasmine & Aladdin
Given the release of the live-action adaptation of Disney's Aladdin, there's no better time to channel your inner princess and street urchin.
You can totally purchase couples costumes that are already assembled, but you can also put together a DIY version with just a few items. You just need some harem pants and a shrunken vest for Aladdin, and an aqua blue bra top, sheer skirt, and harem pants with a matching headband for Jasmine. Just don't forget to snap a pic on your "magic carpet" (a regular ol' rug on your living room floor). #DoitfortheGram.
Woody & Jessie
What's not to love about this cowboy/cowgirl duo? Pay homage to Toy Story 4, which just came out in June, by dressing up as the cutest BFFs in the Roundup Gang.
Both Woody and Jessie need jeans, a belt with a big buckle, and cowboy boots. For Woody, you'll also want to round up a vest with a badge, a brown cowboy hat, and a red bandana. For Jessie, add on some cowhide chaps and a red cowboy hat, and be sure to braid your hair.
Mary Poppins & Bert
The nanny with magical powers and the lovable chimney sweep are, without a doubt, the most supercalafragilisticexpialidocious Disney characters in history. So, they also happen to be a no-brainer when it comes to couples Halloween costumes.
Mary Poppins' costume requires a button-down blouse, a voluminous navy or black skirt, a red bow tie, a long navy or black coat, oxford booties, a felt hat (ideally with floral accents), white gloves, and naturally, a massive black umbrella. Bert needs a grey or red button-down shirt, a dark charcoal or black vest and matching dress pants, a red scarf, a newsboy cap, and a chimney cleaning brush attached to a handle. You can use black eyeshadow to create the iconic soot marks on Bert's face. And #boom — you're both practically perfect in every way.
Bonnie & Clyde
You're partners in crime in real life, so you might as well pay homage to an infamous bank-robbing duo. In a pinch, you can snag a full Bonnie and Clyde costume online, but you can also go the DIY route as well.
For Bonnie, you'll need a short-sleeved yellow sweater or button-down blouse, a tweed pencil skirt, a silk patterned scarf around your neck, and a beret. For Clyde, you'll need a pinstriped jacket (or vest) with matching dress pants, a white button-down, a tie, and a fedora. You can also have one bring a fake bag of money for the full criminal effect.
Sandy & Danny
This classic costume never fails to trigger some nostalgia — after all, come Halloween, many have just kissed their summer lovin' goodbye.
You have options with this one, too. You can either choose to do a version with the innocent cheerleader version of Sandy, or the BAMF she turns into at the end of Grease. For the former, you should hunt down some pom-poms, a red skirt, white sneakers, and a sweater that you can add "Rydell High" to. For the greaser version, you'll want to seek out skin-tight black pants, an off-the-shoulder bodysuit, a black leather jacket, and red peep-toe shoes. Danny just requires a white or black T-shirt, black leather jacket, and black jeans (plus, a whole lot of hair product, of course).
Jay Gatsby & Daisy Buchanan
Party like it's 1925 with this couples costume, which pays tribute to the classic F. Scott Fitzgerald novel.
To dress up as Gatsby, the elusive man who throws elaborate shindigs to impress Daisy, you simply need a full tux with a bowtie. Channel Daisy's flapper vibes with a peach, champagne, or blush colored knee-length shift dress that's either beaded or sequined. Some T-strap pumps, glamorous jewelry, and an art deco headband with a feather or jewel accent will tie it all together.
Feeling inspired? There's no reason why putting together a killer couples costume should be stressful — or break the bank. These foolproof ideas are bound to not only present some phenomenal photo ops but also fully solidify your #couplegoals status.