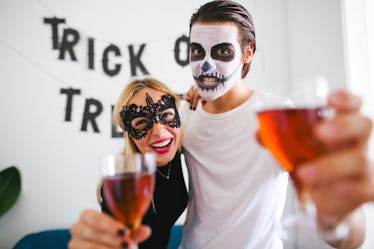 8 Classic Couples Costumes For Halloween 2019 That Are Timeless
The PSLs have made their triumphant return, the fall beers are flowing, and whether you've accepted it or not, Halloween is fast approaching. That means it's time to start brainstorming your and bae's coordinating costumes, fam. Because no one wants to scramble to put together a lame last-minute ensemble for a party. Luckily, there are a plethora of couples costumes for Halloween 2019 that are not only easy peasy to assemble, but also cute AF. As in, your Instagram post is bound to rack up the likes, #nofilterneeded.
There's something especially fun about a costume idea that takes two. Not only is it often easier for others to guess what you're dressed up as when you come as a dynamic duo, but it also serves as a bonding experience. Undoubtedly, you and your boo will get a kick out of looking back at the photos of your joint costume and remembering the process of putting it together.
When it comes down to it, the best couples costumes are the ones that both reflect your unique personalities and interests while referencing the past. Need some ideas? Whether you're hitting up your bestie's bash or heading to a local bar, here are a few clever and creative couples costumes that are simply timeless.