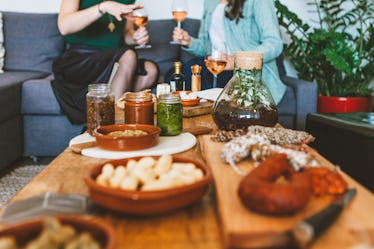 8 Christmas Cheese Ball Recipes For Wine Wednesday Plans With The Girls
Wine Wednesday with your girls is an absolute necessity this time of year. The end of the year can be super stressful with the holidays coming up, so I'm prescribing a treat yourself kind of a night with your mains. I mean, if wine and your squad doesn't sound like a dream, I don't know what does. Though we can't forget the most important staple of a wine Wednesday, and that's the cheese. Just like you need your friends to destress, wine pairs perfectly with an assortment of cheeses, so just in time for the holidays, you should try one of many Christmas cheese ball recipes.
A regular plate of cheese is totally fine, but why not jazz it up with a fun holiday shape, like a tree or snowman? Your friends will appreciate your added festive flair, and these eight cheese ball recipes are super easy to create.
There's absolutely no extra stress of having to make something lavish. It's just a fun holiday-themed snack of delicious cheese that can pair so well with your wine. You and your girls could put on a favorite holiday movie to watch and unwind, or just sit around the fire and talk about everything you're excited about in the new year.
This wine Wednesday is going on the cal, because we need it now. Grab an extra glass, and dive into that festive cheese ball, because we're having ourselves a very merry Christmas.