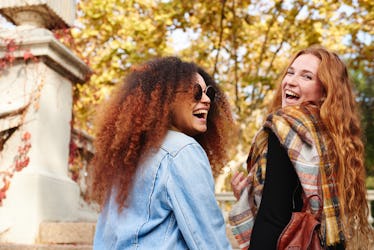 These Galentine's Day Ideas Are So Cheap & Perfect For You & Your Broke Squad
For many people, Valentine's Day can cause a rush of panic to the heart for a variety of reasons, one of which is often the ridiculous amount of money that goes into "enjoying" the occasion. If you're not feelin' the expensive ode to coupledom this year, planning some cheap things to do on Galentine's Day might be the way to go instead. Not only will you be honoring the lovely Leslie Knope from the incredible show Parks and Recreation, but you'll also be celebrating all of your favorite lady friendships and the fun you all have spending time in each other's company. Let's be real, even if you do have an SO, your gal pals deserve a little recognition this February too, amirite?
As for me, I've always considered my mom to be my valentine, which means I never pass up on celebrating Galentine's Day. Furthermore, I religiously only shell out the amount that it costs to buy those rip-out cartoon-themed valentines from the pharmacy. But if you and your gals are looking for some fun and inspired ideas that don't cost an arm and a heart, I've got you covered on this one.
Yes, friends, this Galentine's Day, love will grow, but your wallet will stay the same size. Here are a few cheap things you and your squad can do this Feb. 13.