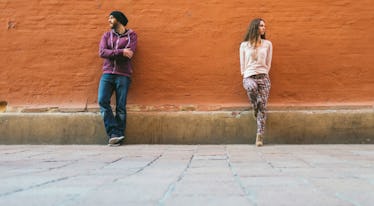 8 Brutally Honest Phases Of Fighting With Your Partner For The First Time
So, you're seeing someone new, and so far everything feels perfect. You get along swimmingly, the chemistry is absolutely there, and you can't keep your hands off each other. But no relationship, no matter how wonderfully it starts out, is immune to an argument every now and then (we're all humans with different life experiences and opinions, after all!), so it's natural to be a little worried about fighting with your partner for the first time.
The good news is, if you're in a pretty stable relationship and you're both open to communicating through your issues, you'll be just fine — and your first fight shouldn't be too bad. Plus, it's a good learning experience, especially if you're with someone you can see a future with. Once you see how your partner responds to conflict (and how you interact with them in the moment) you'll be able to better handle issues in the future.
It's also worth noting that if your fights with your partner are frequent and often go unresolved, that's a sign that you might not be the best fit for each other. The occasional argument is normal, but constant fighting — especially if they tend to escalate to yelling and make you worry about the future of your relationship — isn't something anyone should put up with in a relationship.
Every fight is different, but for the most part, this is how your first argument will likely go in a new, healthy relationship from conflict to resolution (and maybe even makeup sex).