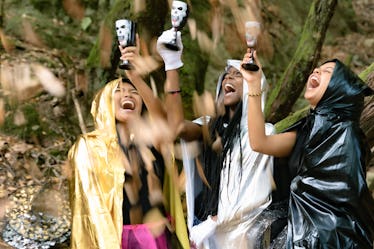 These Backyard Halloween Party Games Are For Adults Who Just Wanna Have Fun
Giuseppe Manfra/Moment/Getty Images
Your friend group may take Halloween very seriously — to the point where you spend all October planning a small get-together with all sorts of tricks and treats. In the past, this party might have been held in your home. But this year, due to the coronavirus pandemic, you can either host your gathering virtually, or consider playing some of these backyard Halloween party games for adults with the people you've been quarantining with.
These games will make you feel like you're not missing out on anything this Halloween. Although it's not totally guaranteed, each one could be a big hit with your crew, and make them laugh until the full moon rises to the top of the night sky. Some will require your people to get creative or sneaky, while others will land them with candy corn and other seasonal treats to snack on. A few of these games can even be played in a virtual setting. So, if your plans switch, or you want more people that you love to play from the comfort (and safety) of their homes, you can still have a spooky good time.
Now, let's be like vampires and sink our teeth into some of these juicy ideas. Here are eight Halloween party games to play with your people. Beware: they are "bad to the bone."